You can subscribe to us using iTunes or manually subscribe using another application and our RSS feed. The RSS feed is also useful if you want to find past episodes. Alternatively, you can use Stitcher which enables you to stream our show on-demand wherever you are!
Remember to leave us a review on iTunes!
The Best Bits
For our 50th episode, we asked listeners what their favourite moments had been. Have a listen and find out what you're missing! If you're already a fan why not send us a voicemail, tell us what you've enjoyed most since episode 50 and you'll be a part of our 100th episode!
Podcast Hosts
Click for more information
Simon: Podcast host and website
author/editor. Click to learn
everything you'll need to know in event
of a wild Simon appearing.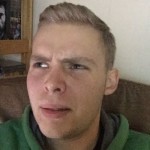 Ben: Podcast host and website
author /editor. What is he really
like? Find out how to avoid him by
clicking here.